Writer: Minhua Chu, Danni Yin
Editor: Justin Fischer, Elise Mak
China's pursuit of innovative oncology drugs has kept Chinese regulators busy in July, as they granted the first marketing approvals to two foreign drugs and accepted NDAs for nine more new ones.

The first is Amgen's carfilzomib (trade name: Kyprolis), a second-generation proteasome inhibitor now approved for treating relapsed/refractory multiple myeloma (MM). Amgen's China partner Beigene holds the development and commercialization rights of the drug, which became the third product marketed in China under the strategic partnership between the two companies.
Carfilzomib won its first approval in the U.S. for this indication in 2016, then received more marketing nods in Australia, Canada, Hong Kong, China, Japan, Korea, Switzerland, Russia and other countries and regions.
The second drug that won marketing clearance was Novartis' sonidegib phosphate (trade name: Odomzo), an oral selective smoothened (SMO) inhibitor indicated for basal cell carcinoma. Sun Pharma acquired its global rights for $175 million in December 2016.
In a surprising move, the approval for Odomzo came in just five months.
The new drug applicaiton (NDA) for sonidegib phosphate was submitted in February. Shortly after, the drug candidate was granted priority review status as a treatment for patients with local advanced basal cell carcinoma (BCC) that has recurred following surgery or radiation therapy or those who are not suitable for surgery or radiation therapy.
Chinese companies also made progress in July.
MabPharma's CMAB008 became the first infliximab biosimilar to obtain market approval in China. This recombinant anti-TNF-alpha chimeric monoclonal antibody was cleared to treat moderate to severe active rheumatoid arthritis, and MabPharam plans to expand its indications to ulcerative colitis, ankylosing spondylitis, Crohn's disease, fistulae Crohn's disease and psoriasis.
MabPharma is not alone in the infliximab biosimilar market. Three other competitors, Hisun pharmaceuticals, Jiahe Biotech and South Korea's Celltrion, have also submitted an NDA for their biosimilar candidates.
Genuine Biotech, a little-known company founded in 2012, was also in the spotlight. Its dual-targeting oral drug azvudine won approval for the first time to treat HIV-1-infected adult patients with high viral loads.
Encouraged by the milestone, the company is planning for an IPO in Hong Kong in the first quarter of 2022 after closing a $100 million Series B round.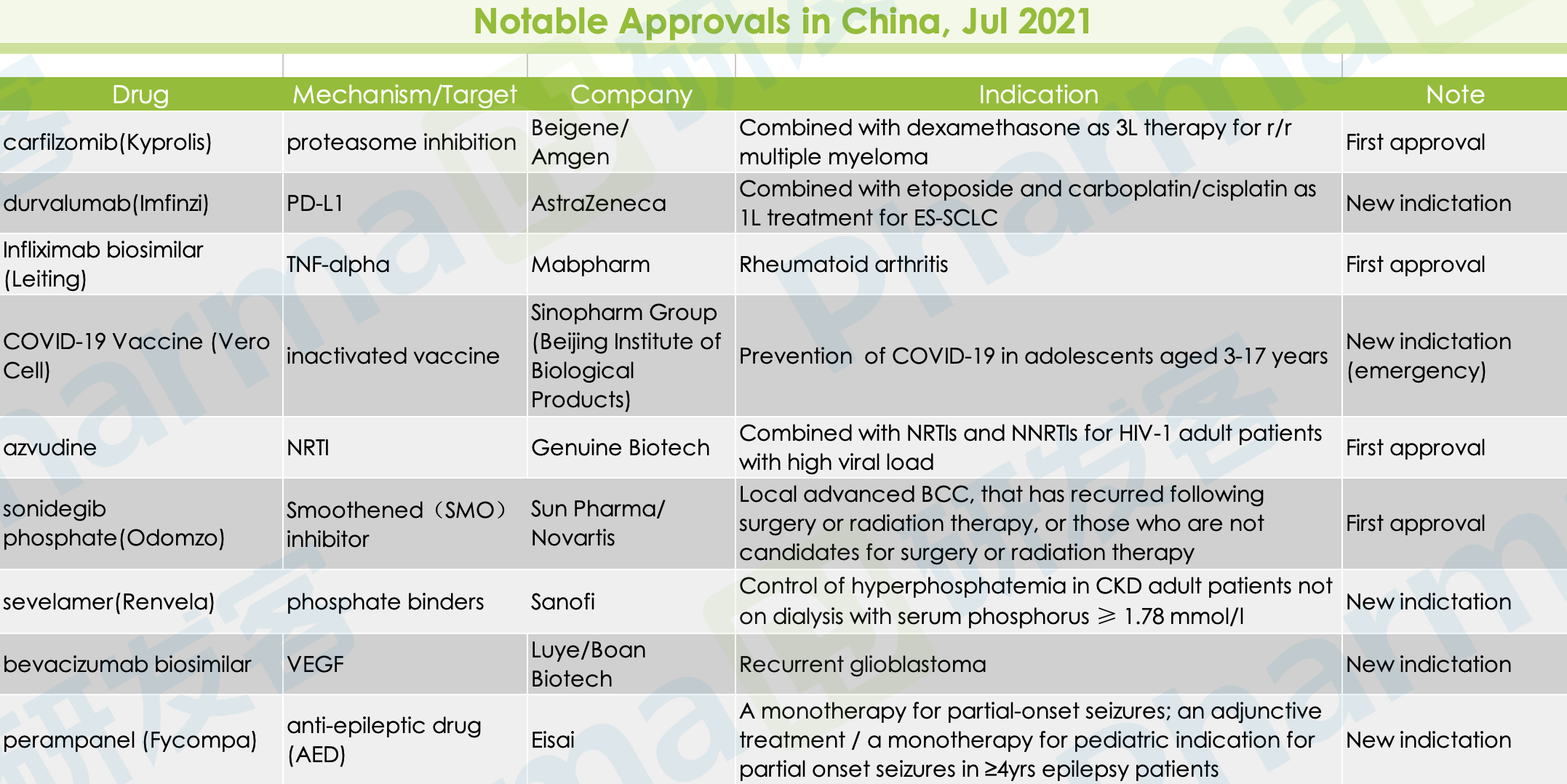 A longer list for approval
Chinese regulators are facing a longer list of drugs pending approval. In July, the NMPA accepted NDAs for nine new drugs. Among them, eight are anti-tumor drugs, and two are co-developed by multinational and Chinese companies.
SciClone Pharmaceuticals' NDA for Danyelza (naxitamab-gqgk) was accepted and granted priority review status. The GD2-binding monoclonal antibody is intended to be a treatment for recurrent or refractory high-risk neuroblastoma.
Danyelza was developed by Y-mAbs Therapeutics. SciClone obtained its exclusive development and commercialization rights in Greater China in a $120 million agreement in December 2020 that also includes omburtamab, a potential treatment for neuroblastoma.
Another notable filing is from Cstone Pharmaceuticals for ivosidenib to treat relapsed or refractory acute myeloid leukemia (r/r AML) adult patients carrying IDH1 mutation. Ivosidenib is a first-in-class oral selective mutant isocitrate dehydrogenase (IDH1) inhibitor developed by Agios Pharmaceuticals.
Cstone licensed the Greater China rights to ivosidenib from Agios in 2018 for hematologic and solid tumor indications. The duo expanded the agreement to include Singapore in 2020.
The NDA submission in China by Cstone came after the filings in Taiwan and Singapore.
On August 3, Cstone said the registration bridge study of ivosidenib in China met the endpoints. The company is expected to publish the data in the upcoming European Society of Medical Oncology (ESMO) Annual Meeting by oral presentation.