Top news story of the day:
Worg Pharmaceuticals closes Series B financing for allergy and autoimmune diseases
Worg Pharmaceuticals announced the completion of a round of Series B financing worth 400 million RMB.
Worg will apply this infusion of capital to the clinical development of core products and building out its team. The company is also developing a pipeline for allergy and autoimmune diseases based on two technology platforms, PCFiT and Apitope.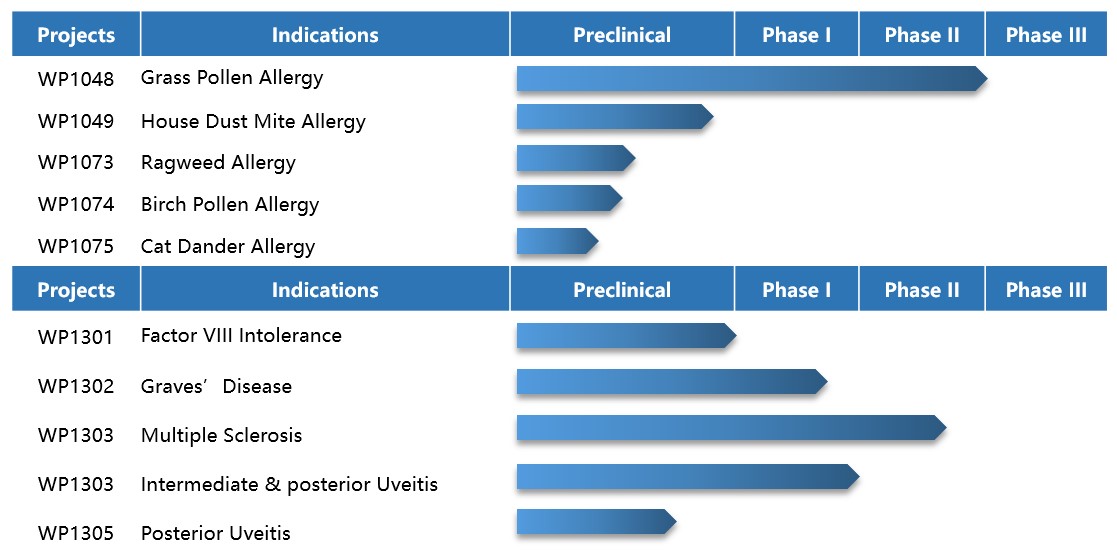 Worg's Peptide/Carrier Vaccines (PCFiT™) platform is the basis for its allergy immunotherapy(AIT) pipeline. It aims at maximal efficiency and simultaneous reduction of (IgE- and T cell-mediated) therapy-related side effects of AIT.
PCFiT Program's first pipeline, WP1048, is indicated for grass pollen allergies and has undergone four Phase I/II trials.
Worg is promoting its second pipeline indicated for autoimmune diseases and has built its antigen processing independent epitopes (Apitopes) platform to select and develop highly specific peptide-based therapeutics
WP1303 has completed a phase IIa clinical trial in multiple sclerosis patients. WP1302, a treatment for Graves' disease, has completed a phase I trial and is planning an international multi-center phase II clinical study. Moreover, WP1301 was granted Orphan Drug Designation (ODD) for the treatment and prevention of Factor VIII intolerance in hemophilia A patients.
In addition, the company acquired Apitope, a clinical-stage biotech company focusing on autoimmune diseases to expand its immunotherapy pipeline in August 2021.
Founded in 2018, Worg is based in Shanghai and owns a subsidiary company in Basel, Switzerland.
In other news:
On September 12, US President Joe Biden signed an executive order laying out a strategy to bolster domestic bio-manufacturing and reduce reliance on China for new medicines, chemicals and other products. Shares of homegrown CRO companies have since taken a plunge. A-shares of WuXi AppTec and Asymchem fell by the limit, while Pharmaron, Tigermed, Pharmablock and Porton Pharma shares fell by more than 5%.
By Danni Yin
Keywords:
Worg Pharmaceuticals